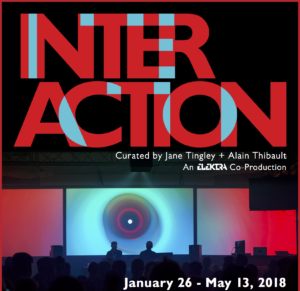 ---
Project Description
INTERACTION is a multi-modal art exhibition that will take place at THEMUSEUM in downtown Kitchener (ON), and will also extend into the sister cities of Kitchener and Waterloo (ON) at a number of satellite locations. The exhibition in its entirety will showcase works by Canadian artists and researchers, who work within the context of new media, immersion, games and interactivity. The exhibition and related programming will run through January 25th to May 13th, 2018.
This exhibition is co-curated by Jane Tingley and Alain Thibault.
---
Upcoming Exhibitions
January 25th - May 13th, 2018
THEMUSEUM, Kitchener, ON. CA.
Opening vernissage: January 25th, 2018